Macedonia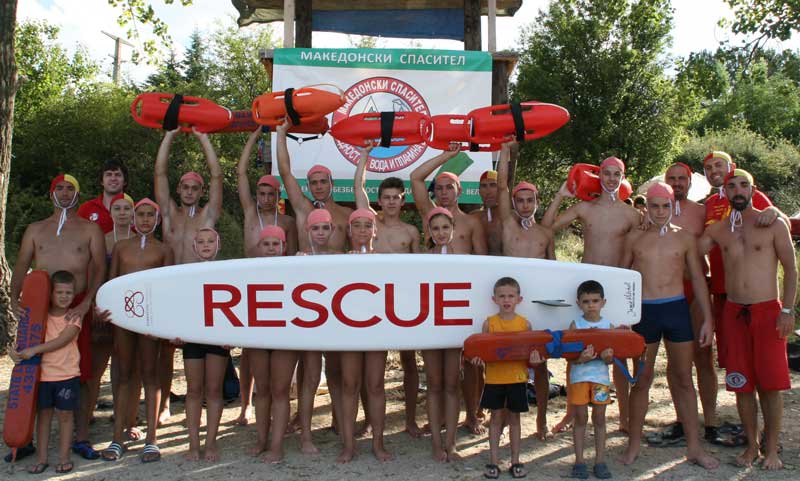 Eastern Europe Project Information
Initially established in 2010, Macedonia Rescuer (MR) is a State recognized Non-Governmental Organization (NGO) based out of Veles, Macedonia that seeks to establish sustainable lifesaving and rescue operations for water ways and mountain areas in the country of Macedonia. Contact with ISLA first occurred in 2011, when MR founder Angel Panovski reached out to ISLA for assistance equipment and ISLA certification. In 2013 ISLA conducted its first Open Water Basic Training course for the Macedonia Rescuer, and as a result certified over 40 class participants with the ISLA certificate. ISLA also donated over $5000 in needed gear and equipment for the water lifesaving operations of Macedonia Rescuer.
In May of 2015, ISLA will be sending a second team of volunteers to run a 3 day basic training course for the Macedonia Rescuer, in Lake Mladost, Macedonia. The mission will be to re-certify outstanding ISLA lifesavers and certify new members, as well as continue to set up sustainable ways for MR to continue to grow and be a lifesaving asset to the country of Macedonia.
2015 | Eastern Europe
Project Dates: May 23 – June 1st | Application Period: 3/23 – 4/5 | Volunteers Announced: 4/13
Project Description: This year marks the 2nd ISLA project in Eastern Europe! Highlights of this year's project include a city exploration of Athens, meeting with lifeguards from the Hellas Training Center, and assisting the Macedonian Rescuers Organization with a 3-Day ISLA Basic Open Water Lifeguard Course in Veles, Macedonia.

2013 | Eastern Europe
Project Description: In May of 2013, ISLA embarked on their first trip to Europe. We sent 4 Volunteers to Macedonia to conduct the ISLA Open Water Certification Course with the Macedonian Rescuer Organization. Of the 21 course participants, 17 passed the course as ISLA certified lifeguards. After the training, the ISLA team went to Greece to tour with the Greek lifeguard training school called Lifeguard Hellas Training Center in Athens and to participate in a triathlon in Marathon, Greece (the birthplace of the Marathon). The team also toured Macedonia.
Macedonian Press Tour! – Една девојка и дваесетина момци учеа за спасители / Rescues in Macedonia!  |  ISLA on MTV (Macedonian Television)
Photo Album – Training Course Day One  |Photo Album – Training Course Day Two  | Photo Album – Training Course Day Three  | Photo Album – Awards ceremony day