ISLA Lifeguard Certification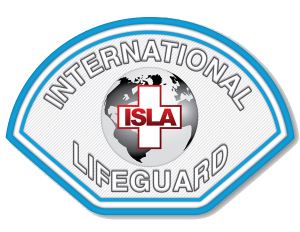 The ISLA Lifeguard Certification Program was developed to raise international lifeguarding standards and training programs to a minimum professional standard. ISLA trainings lay a foundation which allows the lifeguard employer or organization to conduct in-house training of lifeguards.
Organizations are required to build their lifeguard training programs above and beyond this high international standard.


Read Frequently Asked Questions and about the ISLA Education and Training Philosophy.
BASIC OPEN WATER LIFEGUARD COURSE
Course Length: 3 days / 30 hours.
Course Description:  The ISLA Basic Open Water Lifeguard Course is designed for people with little or no background in open water lifeguarding.  It provides an introductory exposure to both the theoretical and practical components of open water lifeguard subjects such as lifeguard operations, aquatic injury prevention, and basic open water rescue.  This course does not include a certification in CPR or First Aid.
Course Objectives:  At the end of this course, the trainee should have the ability to:
Prevent an accident based on knowledge of physical and social conditions.
Recognize dangerous aquatic conditions and hazardous areas.
Identify a victim in distress.
Discern appropriate responses to a variety of different situations taking into account personal ability and scene safety.
Effectively execute a basic rescue in open water.
 Course Prerequisites: Any student wishing to participate in the ISLA Basic Open Water Lifeguard course must meet the following requirements:
16 Years of age or older (with minors consent form for those under 18)
A valid CPR & First-Aid certification
Ability to swim 500 meters (550 yards) without stopping
Ability to tread water for five minutes
Ability to dive to a depth of three meters (twelve feet)
*NOTE- This course is extremely physically demanding, and requires participants to be in excellent shape.  The completion of several long distance swims and runs are required for certification.
Click on the following Links to see:
Sample ISLA Basic Open Water Lifeguard Course Syllabus
Sample ISLA Basic Open Water Lifeguard Course Schedule
OPEN WATER LIFEGUARD DAY WORKSHOP
Course Length:  1 Day, 6-8 Hours
Course Description:  This workshop is a tailored program designed to fit the needs of the specific group it is intended for.  A school group, hotel employees, a group of local surfers, or water activity instructors are all perfect target groups to get a basic introduction to oceanic conditions, rescue recognition, and basic rescue techniques.  No certification is rendered.
ADVANCED OPEN WATER LIFEGUARD COURSE
Course Length: 10 days/ 100 hours
This course explores all the subjects in the Basic Open Water Lifeguard Course more in depth, along with the inclusion of First Aid and CPR certification. This course meets or exceeds national lifeguards standards in the United States.
FIRST AID | CPR | AED COURSES

Red Cross First Aid, cardiopulmonary resuscitation (CPR), and automated external defibrillator (AED) training meets the needs of professional first responders, healthcare providers, and the general public. We offer both professional rescuer and non-professional rescuer training options.
CPR/AED for Professional Rescuers and Health Care Providers – Course length: 6 hrs
Emergency Medical Response – Course length: 51 hours
Bloodborne Pathogens Training – Course length: 2 hours
Administering Emergency Oxygen – Course length: 2 hours
About the ISLA Instructors:
All of the instructors are volunteers who are not paid for their time working with ISLA.  Our ISLA Instructors are experienced Professional Open Water Lifeguards that work in the United States at a variety of different agencies on both coasts.  ISLA Instructors are Lifeguards, Lifeguard Instructors and Supervisors at their various professional agencies, International Red Cross First Aid/CPR Instructors, EMTs, Paramedics, Nurses, Water Safety Instructors, Rescue Water Craft and Rescue Boat Operators, Rescue Divers, Jr. Lifeguard Instructors, and educators.  Each Instructor team is different, but every ISLA training is required to include an ISLA Instructor II, and a minimum of two ISLA Instructor Is.
Learn about the ISLA Instructor Rankings.
Disclaimer:
ISLA Ocean Lifeguard certifications (Basic and Advanced) are not a license to practice medicine outside of the scope of practice, provide occupational medical advice, or teach lifesaving, first aid, or CPR. The bearer of this certification is liable for all actions and does not hold the International Surf Lifesaving Association (ISLA) responsible for his or her negligence, battery, or breach of duty.
Certifications: ISLA does not guarantee, warrant, or endorse the products or services of any firm, organization, or person.  ISLA certification is a certificate of course completion that indicates a person has satisfactorily met the specific requirements of the of the course on that date, but is not a guarantee of competency, accuracy, or any particular result.  Information about Certificates is provided by the Certificants themselves, and ISLA is not responsible for any incorrect or outdated information about Certificants, including their office addresses or any other contact information. ISLA does not assume any duty to the public for the services of Certificants, or for any information about Certificants or any other person or entity participating in or receiving professional services from Certificants.
ISLA SHALL NOT BE LIABLE FOR ANY LOSS, DAMAGE, INJURY, CLAIM, OR OTHERWISE, WHETHER AN ACTION IN CONTRACT OR TORT AND SHALL FURTHER NOT BE LIABLE FOR ANY LOST PROFITS, OR DIRECT, INDIRECT, SPECIAL, PUNITIVE, OR CONSEQUENTIAL DAMAGES OF ANY KIND (INCLUDING WITHOUT LIMITATION ATTORNEYS' FEES AND EXPENSES).
IMPORTANT: Our ISLA Open Water Lifeguard Course are announced individually throughout the year via our email newsletter. Course tuition varies by location. Enrollment is limited, so it is best to apply as soon as the course registration opens. Signing up for the ISLA newsletter is the only way to ensure you don't get left behind!