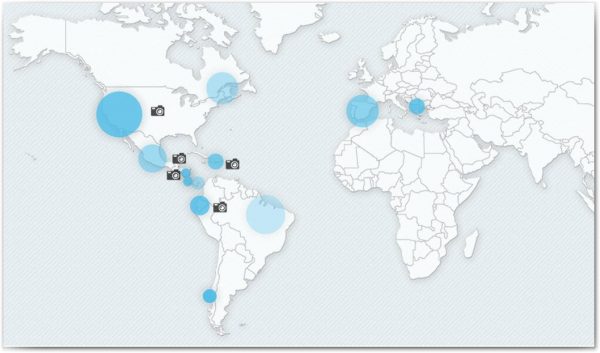 A glimpse of ISLA Operations. Click the map to learn more.
ISLA
is proud to announce the official agenda of our
international lifeguard projects for the coming year
. We are going to be running
9 official ISLA projects
, in
6 countries and in 3 continents
. Nearly all of our projects still have volunteer openings. We welcome everyone to take a look at the official
2012 – 2013 projects page
, to learn how you or someone you know can get involved.
ISLA Projects are 100% based on the help of our so many amazing volunteers from several countries and from across the United States. The ISLA management and staff work together throughout the year putting on fundraisers and events to empower ISLA volunteers. This provides the teams with the tools necessary to raise the funds needed for their trips and to supply equipment to the beaches they will travel and work at. The trips are strategically organized with local Red Cross, NGOs & other governmental agencies, planned to accommodate for safe travels, and are a truly enriching experience of meeting so many others. For every ISLA volunteer, these trips have been a wonderful and life-changing experience.
2012 – 2013 international projects:
Socal / Baja Volunteer  –  Tijuana, Mexico
Punta Abreojos Beach Safety Program – Punta Abreojos, Mexico
Basic Open Water Training Course – Cancun / Tulum, Mexico.
Basic Open Water Training Course – Cabarete / Bayahibe, Dominican Republic.
Costa Rica Lifeguard Exchange – Domincal, Costa Rica.
Chilean Exchange – Santiago, Chile.
Lifeguard Exchange -Todos Santos / Cerritos, Mexico.
Semana Santa Volunteer Trips – Nicaragua and Dominican Republic.
ISLA Macedonia Exchange – Veles, Macedonia.
All ISLA trips are truley a unique experience to train, teach, volunteer, learn and create lasting friendships with people from all over the world. We welcome all trained Lifeguards, Medical Personnel, and Bilingual Speakers from anywhere to contact us for more information on how you can get involved joining our already amazing team of volunteers from all over the world.
Visit our projects page to learn more:  2012 – 2013 international projects.  Contact us at info@islasurf.org, visit our About Page or Facebook Page to learn more about ISLA.
We are so excited for the new growth of ISLA, meeting our new teams of volunteers and planning the components of each of these projects to make dynamic and lasting change for the communities we will be serving and for the efforts of continuing to save lives!
Take a look, share the news and we hope to hear from you soon!