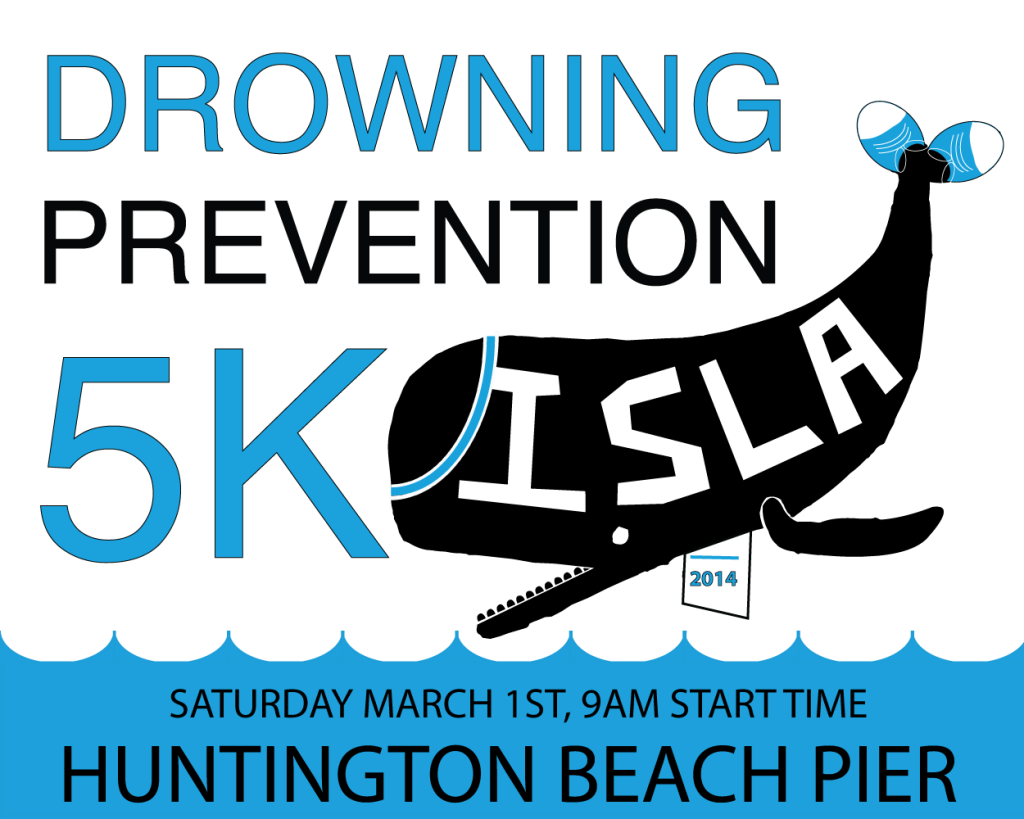 "Drowning is the #1 cause of preventable death. Nothing is more preventable than drowning!"
According to the World Health Organization (WHO), there are an estimated 388,000 annual drowning deaths worldwide.* The WHO believes the global estimate may be significantly underestimating the actual public health problem related to drowning.**
The Drowning Prevention 5K raises funds and awareness for aquatic safety, celebrates the ocean and environment, as well as honors those we have lost.
Unable to participate in the 5K, but sill want to donate? NO PROBLEM-Oh!!!
EVENT DETAILS:
Where: Huntington Beach Pier (South Side service road behind Tower 5)
When: Saturday March 1st, 2014
Start Time: 9:00 am (arrive at least 30 min before start time)
Cost: FREE for ISLA Members (Partners for Projects)
$25 Adults ($30 day of event)
$20 Children Under 13 ($25 day of event)
REGISTRATION
There are 3 ways to register for the Drowning Prevention 5K:
Online (click "Register" above)
Become an ISLA "Partner for Projects" and receive FREE 5k registration.
In-person at the Drowning Prevention 5K Event
PARKING INFORMATION:
Pier Plaza Parking
Location: Adjacent to the Huntington Beach Pier. It is comprised of two lots using Pay and Display System.
Cost: $1.50 per hour, with a $15 daily maximum.
Main Promenade Structure Parking
Location: 200 Main Street–Main Street between Walnut and Olive Streets.
Cost: Validations are available at participating downtown merchants.
First 30 minutes Free
31 minutes to to 2 hours – $1 per hour
2 hours, 1 minute & up – $1.00 each 20 minutes
Maximum Daily Rate $15
South Side Beach Parking Lots
Location: Entrances are at First Street and 6th Street.
Cost: $15 Flat-rate day use.
Interested in a Safety Fair Booth, Sponsorship, or being a Partner Organization at the 2014 Drowning Prevention 5k? See our Sponsorship Packages and Charity Partnership Agreement for more information:
DP-5K-Sponsor-Packages
DP-5K-Partnering-Organization-Agreement
For additional information contact the 5k Event Director at: henry.reyes@islasurf.org
SPONSORS & PARTNERING ORGANIZATIONS
Huntington Beach Surf Lifesaving Association (HBSLSA)
Project Wipeout