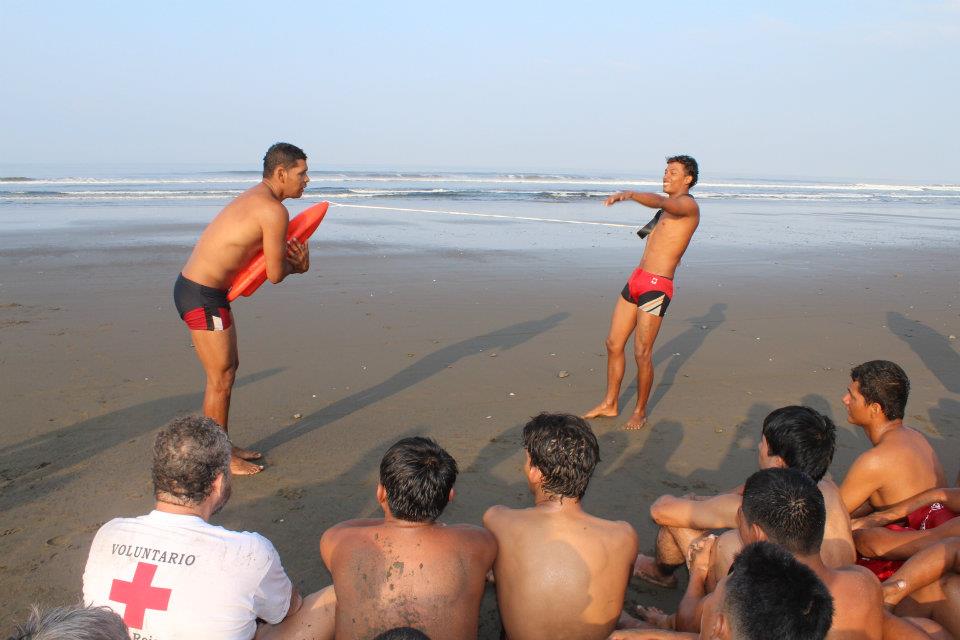 ISLA volunteers will be working along side the Nicaraguan Red Cross during the 2013 Easter Holiday. Semana Santa (as it is known in Central America) is a four-day holiday that is know for its alarming drowning rates.
This Project marks the 5th year that ISLA volunteers will be standing guard with their Nicaraguan brothers.
ISLA will send volunteer lifeguards to join the volunteer lifeguards from the Nicaraguan Red Cross/Red Crescent in patroling the beaches of Poneloya, Jiquilillo, and El Transito for the Easter Holiday, Semana Santa.
Interested in joining ISLA? We are looking for lifeguards, junior lifeguard instructors, translators, administrators, travel writers, cinematographers, and great people looking to change the world.
Limited on your time abroad? Don't worry, we have multiple volunteer options.
Sightseeing+Volunteering+Surfing= $400 (11 Days: Mon 3/25- Thur 4/4)
Volunteering+Surfing= $200 (9 Days: Wed 3/27- Thur 4/4)
Sightseeing+Volunteering = $200 (7 Days: Mon 3/25- Sun 3/31)
Volunteering at the Beaches = $100 (5 Days: Wed 3/27-Sun 3/31)
Nicaragua Itinerary
Day 1: (Mon 3/25) Wait for group to arrive  in Managua, spend the night at Best Western.
Day 2: Red Cross picks up Sightseeing Group and Travel to Granada. Cave Tour with tour guide Ramon, stay at Hostel.
Day 3: (Wed 3/27) Red Cross picks up Sightseeing Group and Travel to Managua Airport to pick up additional ISLA Volunteers. Teams break up and are led according to the number of translators (ie.. 3 spanish speakers, 3 teams) and transported to beaches. Beaches are chosen by the Red Cross; but we explain we need to be at surf beaches that have crowds. Usually the beaches of near Leon.
Day 4: (Thurs 3/28) First day of volunteering.
Day 5: 2nd Day of Volunteering
Day 6: 3rd Day of Volunteering
Day 7: (Sun 3/31 Easter) 4th Day of Volunteering is a half day, Teams get picked-up from their beaches and transported to Red Cross headquarters in Managua. ISLA Volunteers not going on the surfing portion are released or transported to the airport. (There are usually no late flights out of MGA, so most stay at the Best Western at their own cost and fly out Mon.) Volunteers going surfing are transported to Guasateke (popoyo) by the Red Cross and spend the night at a surf hostel.
Day 8: Surf
Day 9: Surf
Day 10: (Wed 4/3) Surf 1/2 day get picked up by Red Cross (hopefully) and transported to Best Western in Managua. Any one wishing to stay longer is released.
Day 11: (Thur 4/4) Fly Home.
*Cost does not include airfare. Food is included for all meals while volunteering. All transportation and accommodations are included.
Interested in reading about our volunteers experience abroad? Our past trips to Nicaragua? Signing up for a trip? Check out our volunteer stories, our projects in Nicaragua, fill out the Application online and let's get this started!