Featured Volunteer: Simon Lewis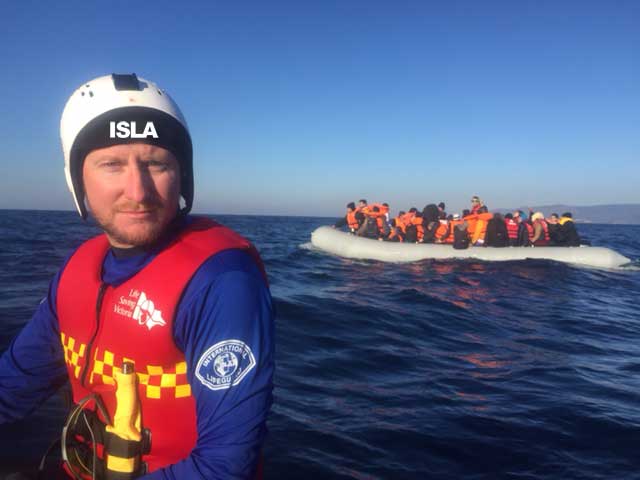 Meet ISLA Humanitarian Lifeguard, Simon Lewis!
Tell us about your training, skills and experience:
I started lifeguarding as a way to meet local friends, help my community and hopefully gain some kind of tan (still in progress). I have been nominated/received numerous lifesaving awards in my country, and yet I value maintaining a high level of professional guard training as the key to making my job/life easy, enjoyable, and well rewarded. I was appointed the Director of Lifesaving at St Kilda Lifesaving Club, which makes me responsible for all lifesaving operations to our state's (Victoria, Australia) busiest beach, with over 10,000 beach goers on some days during the summer on just a patch of 900meters of sand (yes it is chaos at times but it's never boring and you never know what's next). From there I have been lucky enough to use my lifeguarding skills around the world and join the ISLA family.
How did you get involved with lifeguarding?
I originally got into lifeguarding at St Kilda Beach in order to use the Sea Baths gym for free. I had just moved to the town and I did not know anyone.. So it was easy to make likeminded fitness friends, and drinking buddies to show me around when you work as a lifeguard. From there, I was able to move quickly from pool lifeguarding to ocean guarding, rescue, helicopter training, and everything in between. I found my feet as a lifeguard quickly, and worked out that this would be my career path. I have never looked back.
How would you describe yourself in three words?/[h3] [p]Motivated, compassionate, accustomed.[/p] [h3]What's your favorite thing about being a lifeguard?
The people that enter your life with the stories that they share, or the stories that you make together while helping others… Oh and trying not to laugh in public at the 'interesting' things you see every day.
What interests you the most about ISLA?
For me, my road to joining ISLA was based on an image of a drown Syrian boy with the simple question to myself of "Why am I sitting at home when I have skills to help children like him?" … I applied for ISLA's Team 1 to Lesvos, Greece the next day and the reward and ability to learn from others around the world in that experience has been so useful in saving lives on my beach, that I am forever grateful to have made those friends and leant their skills. Being part of an ISLA project you don't really feel your legacy reward until your home. You start seeing photos (online/facebook) of your knowledge of water safety past on and shared in the communities of the people you helped, and that's when you realize that you've helped create a safe aquatic environment for their families and future generations to enjoy.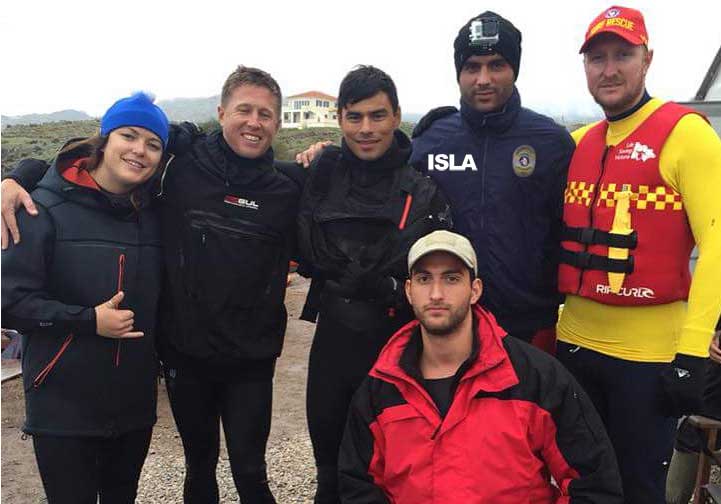 How many ISLA Projects have you been on?
The SoCal trip was my 2nd for ISLA in 6months.
What was it like to be a part of ISLA 1st humanitarian emergency response team in Greece?
It was a trip that changed all of us that volunteered. Those of us who went to Lesvos have a unique bond of friendship and support with each other. You simply know what the experience was like for all the volunteers and how we all felt on the ground there. You can't undo what you saw when you were witnessing history. We all had our stories/ reasons of why we chose to go there, but being on the ground allowed for all of us to truly grow into humanitarians 1st, and professional lifeguards 2nd. The ISLA team that I was on came together very fast. Within 45mins of being on the beach on the 1st day, we were helping 200+ refugees from just one boat.
How was the SoCal project different from your mission in Greece?
The SoCal trip was about providing ocean safety education and sharing knowledge that will help Mexican service providers and lifeguards. That means that the students who we taught will go on to lead a legacy of change in their communities that will hopefully set their new standards of professional care, response, and lifesaving protocols. Our team provided the building bricks in a house full of the best knowledge from around the world. It will be up to them take the journey and be the step in being the change. In Greece, we came to share our skills, and put our bodies on the line 24hr a day. We helped by supporting and filling shifts for Greek lifeguard friends. We were there to rescue and give dignity to those in need of help.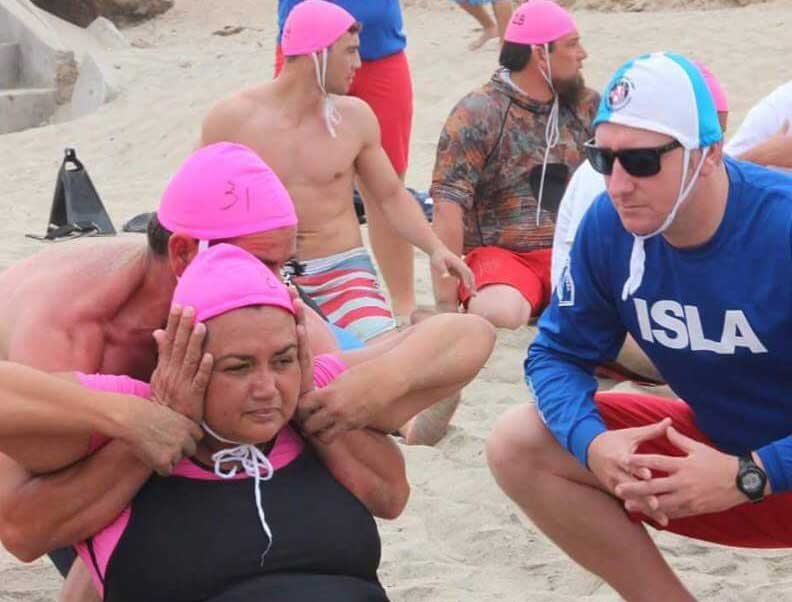 What did you enjoy most about the SoCal/Mexico experience?
The journey you have from the moment you leave your house and until you return is full of so many wonder moments that you laugh, smile and go WTF at. We had such a great time together! We had access to many areas the public does not see (thanks to the ISLA staff), and that taught us lot of cool tricks we will use at our home lifeguard services. One of the most enjoyable moments for our team happened while we was running a game of flags. The participants and instructors were battling it out on the sand while one lonely surfer was trying to catch small waves. This surfer got into some trouble and the students that we taught responded and rescued this guy using the skills they practiced and learnt over the last 3 days. It was truly a beautiful moment, likewise was when Kyle and Graham past out in a Mexican nightclub:)
What was the highlight of the SoCal trip?
For me, the highlight of my trip was seeing the progress of the students and watching them become lifeguards. We had one student whose cousin had drowned on the very beach that we were training at. This student was able to overcome that and commit 100% to becoming someone who can save others from drowning. That was powerful stuff that you can't buy and you can only thank ISLA for getting you there to be a part of that persons story and life.
How do you see yourself being involved with ISLA in the future?
I enjoy meeting people and all the learning you get from these trips. You make lifelong friends from around the world in such a short time together, that they are always welcome to stay at your home and experience your city. When the chance comes to join more trips in Asia, it will be easy for me to get involved and help out.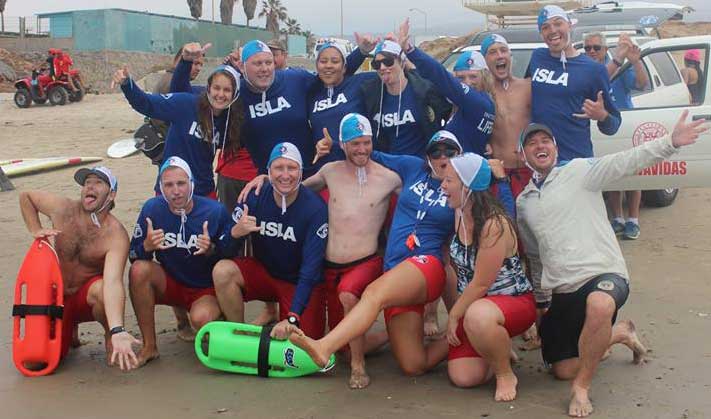 Can you give us a quote to live by?
"The Purpose of Life Is Not A Function, But An Experience" – Simon Lewis