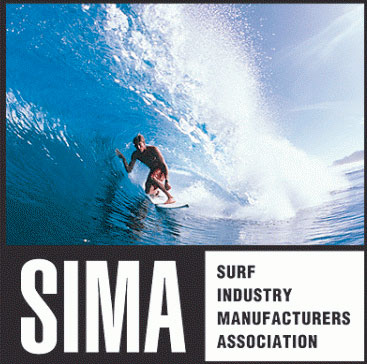 Mission Statement:
The Surf Industry Manufacturers Association (SIMA) is the trade association of competing surf industry product suppliers working together to magnify their power for the development of the surf industry by:
Promoting awareness and participation in the sport of surfing, which will result in increased sales of members' products
Endorsing industry trade shows to assist members in bringing their products to market
Providing programs, services and information that will assist members in improving their business operations
Supporting oceanic environmental efforts through the SIMA Environmental Fund to ensure future growth of the sport and understanding of environmental activism
Recognizing and being oriented and responsive to members' and constituents' needs
Overview:
Founded in 1989, SIMA represents the interests of America's surf industry and is designed to help you grow your business, save you money and help your company operate more efficiently. SIMA members include manufacturers and distributors of surfboards, surf apparel (swimwear, sportswear, boardwear, etc.), wetsuits, bodyboards, eyewear, footwear, accessories and other products used by beach and board sports consumers as well as magazines, exhibit companies, video companies and surf industry vendors such as banks and insurance companies.
To learn more about the Surf Industry Manufacturers Association visit their website; you can also follow SIMA on facebook.
SIMA EXECUTIVES AND EMPLOYEES IF YOUR READING THIS!
We are the International Surf Lifesaving Association (ISLA), and we have developed a prototype of the world's first Global Drowning Tracker. The Global Drowning Tracker© works by allowing people around the world to input statistics on drownings. Anyone with access to the internet or a cellphone (via SMS text messaging) can report a drowning. The end result is a tool that enables researchers, lifesavers and drowning prevention experts a real-time snapshot of where resources can cost-effectively be implemented to prevent the global drowning epidemic.
Click Here! to help us develop version 2.0 of the Global Drowning Tracker© to change the world!