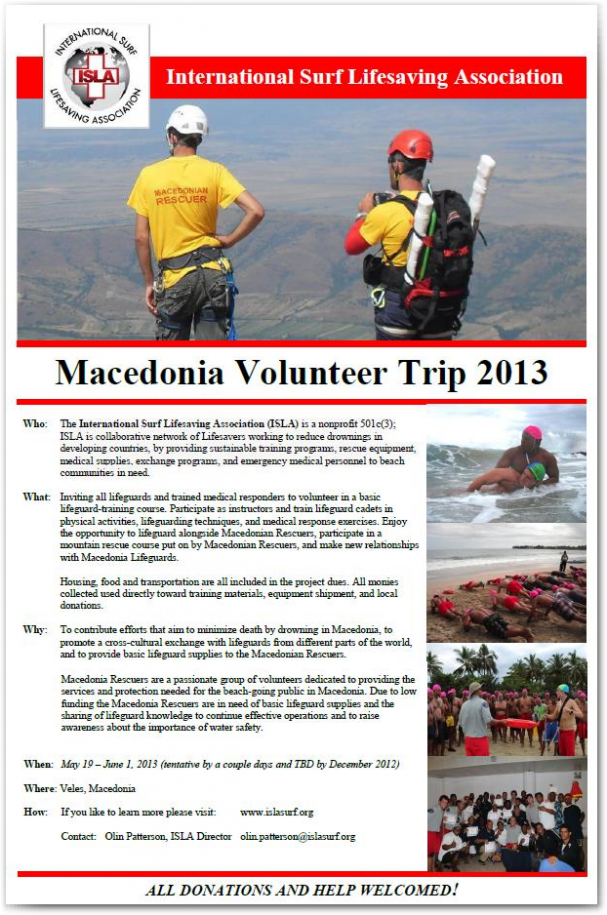 To download the banner click here.
ISLA and the
Macedonian Rescuer
will be conducting a lifeguard exchange in Veles, Macedonia for two weeks during May 2013.
ISLA
will be sending volunteers to Macedonia, as well as basic lifeguard equipment and training to the Water and Safety Association of Macedonia.
The purpose of the lifeguard exchange will be to coordinate volunteers, fundraisers and sponsors to supply the Macedonia guards with equipment, a multi-day training course, and to volunteer alongside the Macedonian Rescuers for a four day period.
In return, Macedonia Rescuers will supply ISLA lifeguards with assisted accommodations, mountain rescue training courses, a couple days of site-seeing, and a once in a lifetime opportunity to create friendships and relationships with the lifeguards in Macedonia.
Currently ISLA has a couple more openings for volunteers. If you are a lifeguard, medical personnel or Macedonian translator we welcome you to send us an email to receive more information about this incredible trip to work alongside the people in Macedonia. ISLA lifeguards will begin a carefully planned fundraising schedule starting in the next couple months that will offer the potential opportunity to cover the trips expenses.
To download a poster, click here and help us spread the word by sharing!
Project Manager: Olin Patterson, olin.patterson@islasurf.org