2013 Dominican Republic Recap
We just got back from our Dominican Republic trip (March 19 to April 1) for this year and to sum it up in one word, I would say, success. The team that flew down was amazing and composed of Raquel Lizarraga, Henry Reyes, Travis Bjorndal, and myself as project coordinator, Tyler Erwin.
During our time in the Dominican Republic we ran a three day Junior lifeguard course with 20 children, ranging from ages 7 to 17.  These students participated in learning different ocean hazards as well as various rescue and first aid techniques. This was my first time Instructing as a Junior Lifeguard internationally, and I really feel that every junior lifeguard who took the course not only had a good time in the program, but was able to walk away with a better understanding of the ocean and the potential danger of its ever changing ways.
The Junior Lifeguard camp was established to educate children to recognize potential hazardous conditions associated with an ever-changing aquatic environment. Emphasis is placed on safety, respect, physical fitness, instruction, and discipline. Students are schooled in the oceanic environment, mutual cooperation, competition techniques, and lifesaving methods.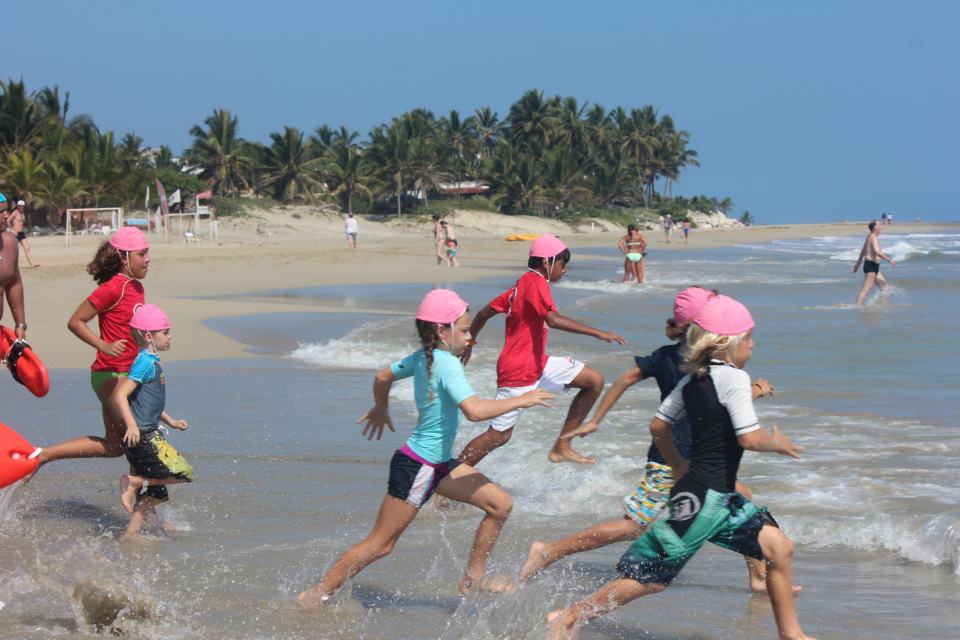 Once the Junior Lifeguard program was complete, we spent the next four days teaming up with the Dominican Civil Defense assisting in the lifeguarding of the beach in Cabarete during their intense Semana Santa celebration. while the weather wasn't ideal (it rained for all four days) the beaches were still crowded and the conditions were dangerous, we are proud to say when we were done there were zero drownings.
Project Statistics:
2 Rescues
127 Preventive Actions
2 Medical Aids
This program would have not happened if not for the many people who worked hard to make it possible, at this point I would like to take a little space to acknowledge the people who made this happen.  First, I must add two important team mates to the team stated above, Joe Manuel Perez and Marcel Mera Garcia, these two Dominicans (and former members of the Dominican National Waterpolo team) joined us in Cabarete and worked with us every day side by side, they played a huge part in helping run the program and were essential in our lifeguarding the beaches.
I would like to thank Renate Astacio for being a huge supporter of the program and helping get all of our ducks in a line once we arrived in the country. Others I would like to thank are Laurel Eastman, or allowing us to overrun your Kiteboarding School for the two days we were in Cabarete. Everyone over at Pauhana for allowing us to use your location as well as your equipment for the program. Eva Knof for spreading the word of our program around the international school system. Robert Otis for setting us up in an absolutely amazing house, and last but definitely not least, Diego over at Viva Tangerine for providing us with the bracelets that kept our stomachs full with your amazing food for the duration of our stay in Cabarete.
We have been home for a couple of weeks, all of us are going back to our regular jobs and the sun burns from Cabarete are a swiftly fading memory. Still I find myself looking over the pictures from the Junior Lifeguard course at least once a day.  It was said in person, but I think it's worth saying again, THANK YOU parents, thank you for opening your beaches to us and for allowing your children to take part in the Junior Lifeguard program this year. Before the trip I had spoken with the other instructors in excitement about what the program was going to be like, and what was to be expected, and the program surpassed anything we expected.
Thank you all so much and I hope to see you all again soon.
-Tyler Erwin
Photos from the Junior Lifeguard Camp  |  Photos from Dominican Lifeguarding  |  Photos of our Voluntourism  |  Learn of ISLA's involvement in the DR   |  Read the official Press Release