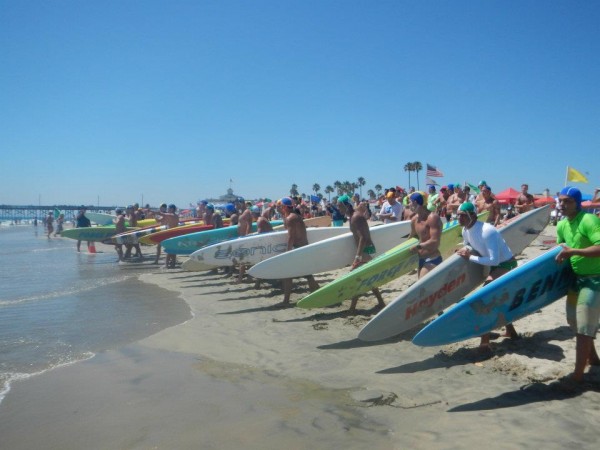 Lifeguards from all over the state line up on the startline for the paddle board contest.
Paddle boards and surf skis cover the entire beach!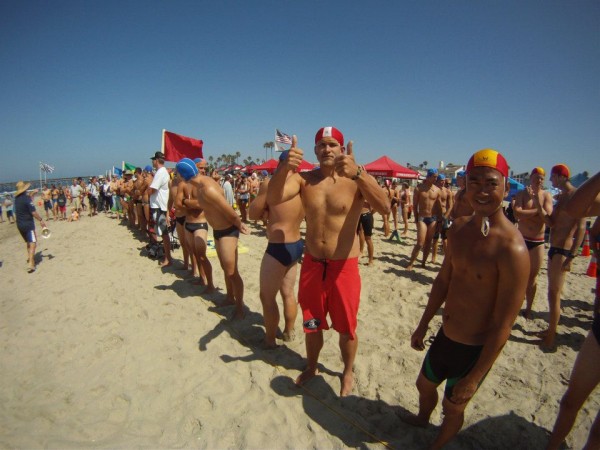 ISLA lifeguard Pete Eich joins his home team of Huntington City Beach for the Rescue Relay.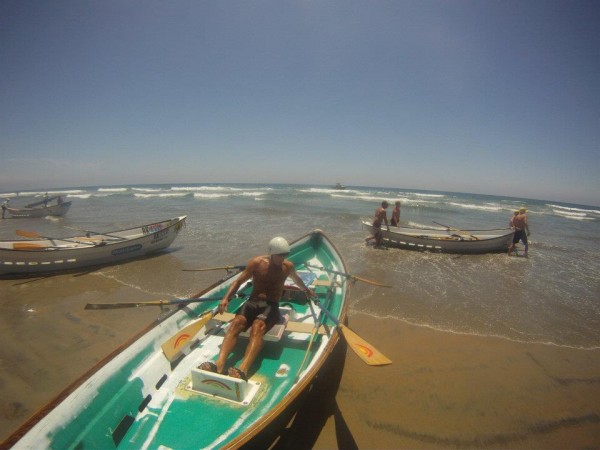 Lifeguards prepare the dory boats for the Open Mens Division Relay.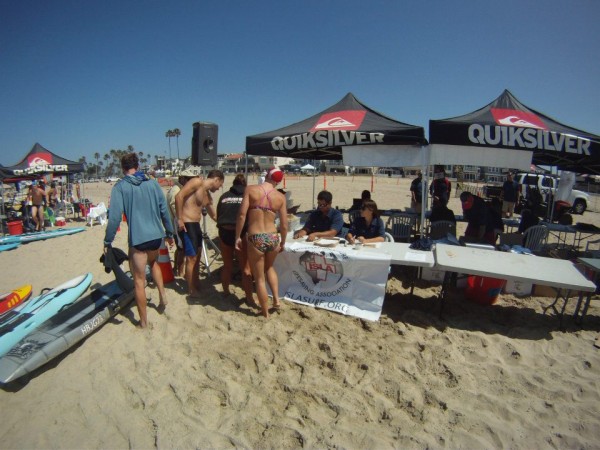 ISLA Lifeguards Rocky and Henry were in charge of official point-recording for the entire event.
Mission Statement:
California Surf Lifesaving Association mission is to promote beach safety awareness and professional open-water lifesaving standards.
Each summer the California Surf Lifesaving Association (CSLSA) holds a regional competition for lifeguards and junior lifeguards. The competition is called the California Surf Life Saving Championships and is usually only open to members of the CSLSA and its 30 Chapters and Agencies. The CSLSA is a regional member of the United States Lifesaving Association (USLA).
This year's Regional Championship was held in Newport Beach just south of the Newport Pier. The surf was small and the water a bit on the colder side, but an all around amazing and beautiful day. Lifeguards competed in a series of events, both for individual recognition and to represent their respective agencies and beaches.
As a regional event for California, the top guards will go on to compete on the national level later this year. And even though it was a competition for California lifeguards, honorary competitors came from both Australia and New Zealand to join the fun!
A handful of ISLA guards also joined the state regionals as volunteers to assist with events and keeping record of the points contestants earned as they placed. It was an all around great day and we are excited to have had the opportunity to assist the CSLSA. We look forward to assisting with regionals next year!
Results will soon be posted on the CSLSA results page.
Learn more about the California Surf Life Saving Association and the United States Lifesaving Association.
View the Photo Album from the event.
DISCLAIMER: The International Surf Lifesaving Association (ISLA) is not affiliated, associated, authorized, endorsed by, or in any way officially connected with the United States Lifesaving Association, California Surf lifesaving Association, CSLSA, or any of its chapters, subsidiaries, or its affiliates. The official CSLSA web site is available at www.cslsa.org.