The ISLA Experiene: Cameron Faris
I'm Cameron Faris and I'm from Huntington Beach, CA. I work with William Koon as a Lifeguard at Huntington State Beach. I have been surfing since I was 5 years old. When I was 12 years old my best friend moved to the North Shore of Oahu. After visiting him those first few times, I fell in love with big wave surfing. Since then I've gone to and from Hawaii every winter to surf big waves. Both big wave surfing and spear fishing are experiences that have humbled me and taught me to respect mother natures power.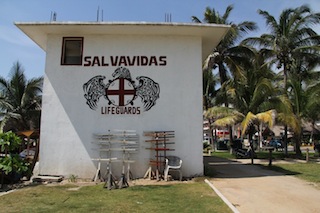 I grew up around Lifeguards, so it was only a matter of time before I became one. When I was 16, I tried out to become a Huntington State Beach Lifeguard and made it. Since then, I've adopted many great mentors, Will Koon being one of them. At the end of my first summer as a Rookie Lifeguard, I fell in love with my job. For the last 5 years I worked as a Lifeguard during the summer and chased swells around the globe during the fall, winter, and spring. I save all my money from Lifeguarding and with the support of my parents and my sponsor's Hurley, Future Fins, and DSC Performance I am able to make my adventures possible. For me, Lifeguarding is a great way to give back to my community, spread knowledge about the ocean to the public and most importantly, be as close to the ocean as possible. I find Lifeguarding and big wave surfing are cohesive because it's all about how you handle yourself in moments of extreme stress.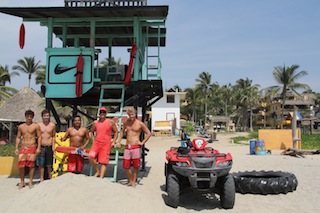 Myself and 3 of my best friends Clay Crandal, Gage Fisher, and Gianni Mercurio (also Huntington State Beach Lifeguards) decided to drive down to Puerto Escondido, Mexico about 3 months ago. Working at the beach all the way up to the night of September 8th, we packed my truck with 28 surfboards, a ton of gear, and a jet ski. Our goal of the trip was to score big barrels, pass out water filters to under privileged communities that were provided by Hurley's H2O program, and donate gear provided by ISLA and the Huntington State Beach Lifeguards to the lifeguards down here in Puerto Escondido.
Our first stop of trip was a beach break just outside of Manzanillo. It took us about 30 hours to get there. We got fun waves, but nothing spectacular. There was a crazy storm that ruined parts of Mexico due to flooding. After our 2 weeks there, we were off to Puerto Escondido. We would have to take a way crazier route through Mexico City and Oaxaca because of the flooding. The storm had ruined the coastal roads and destroyed multiple bridges therefore our new route would lead us into the mountains, and through the heart of this wild country.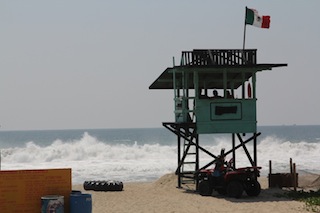 After a draining 4 days of driving through bustling cities and crazy mountain roads we made it. We had a warm welcoming from our good friends Dan and Hughie from the Casa Dan Hotel. There was a big swell due in a few days and all of us could not be more stoked. After one of our first surfs, I approached the Lifeguard at the main Lifeguard tower at Zicatela beach. I told him that we were Huntington State Beach Lifeguards and we had some gear for him. He was the lifeguard Chief and his name was Gordo. His face lit up from excitement and he had us hop on his ATV and gave us a ride up to our house. We brought him a backboard, a buoy, and a pair fins and made our way back down to the beach on his ATV. After a few quick pictures, he invited us into the tower and we talked story for a while about Lifeguarding and surfing. He was the most stoked about the backboard as they are hard to come by down here. Every time someone gets hurt at the beach and a backboard is used, the paramedics take the victim, still strapped to the backboard, to the hospital and it is never returned to the guards…I don't think the hospitals realize the kinds of situations these lifeguards are put in on a daily basis.
Gordo treated us like his brothers. The lifeguards here at Zicatela guard one of the most dangerous beaches in the world and don't get paid very much to do it. They put their lives on the line for others with limited assets, and still continue to save countless lives each year. They are extremely preventative and talk to inexperienced swimmers before they even get into the water. Gordo had us sign the Lifeguard Daily Log with our names and what we had given them. It was one of the coolest experiences thus far on the trip and it was awesome to see how stoked they were on the new gear.
The next few days were filled with big barrels and good vibes. Now we are just enjoying our time under the Mexican sun and waiting for the next swell…
-Cameron Faris