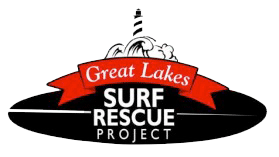 Mission Statement:
To be the leader of Great Lakes water safety and reduce the number of Great Lakes drownings through training, public preparedness, and public awareness.
Overview:
The Great Lakes Surf Rescue Project (GLSRP) is about saving lives. GLSRP is a nonprofit corporation that is a Chapter of the National Drowning Prevention Alliance (NDPA) that tracks drowning statistics, teaches "Water Safety Surf Rescue" classes, and leads the "Third Coast Ocean Force" rip current awareness campaign on the Great Lakes.
To support the work of the GLSRP, please become a member today. CLICK HERE!
Stay up to date with GLSRP news and information by visiting the Great Lakes Surf Rescue Project Facebook Page.