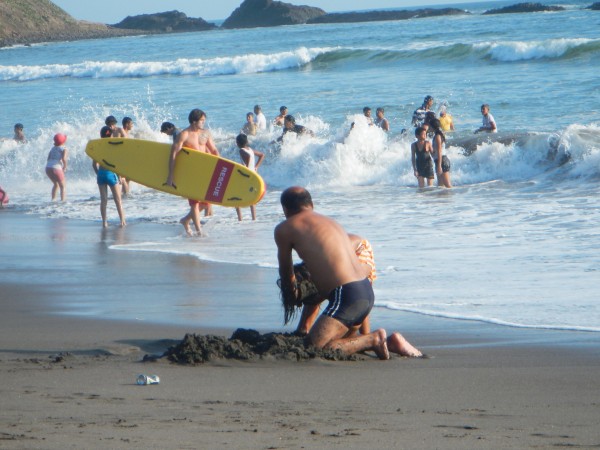 ISLA lifeguard Mike patrols the beaches with Boardworks Rescue Division's inflatable rescue board.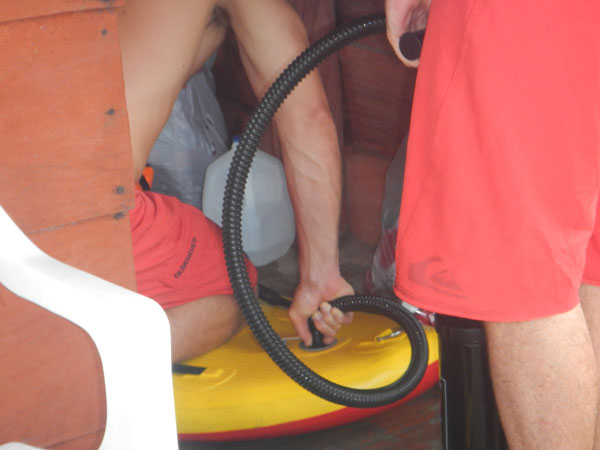 The powerful pump will inflate the board in just a few minutes.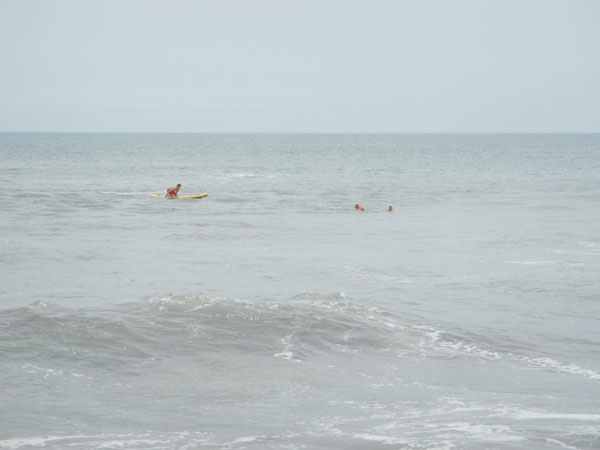 The rescue board rapidly reached a young girl just in time and before another guard swam her in.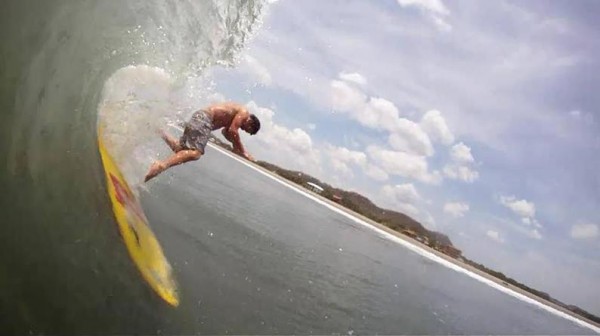 ISLA lifeguard Pete Eich tests the board's limits in some heavy surf. The board handled everything!
This past Spring,
Boardworks Rescue Division
provided ISLA with
inflatable paddle boards
that were used in lifeguarding several very dangerous beaches in Nicaragua. The Boards ended up not only providing a hands-on tool for the students in ISLA's training course, but were critical in assisting with several rescues during the busy holiday weekend!
ISLA's history with trying to figure the logistics of getting paddle boards down to Central America has proved a difficult battle. Last year, ISLA's standard 12 foot paddle-boards were not only denied for airplane travel, but confiscated from being in the airport as a security threat! It was the brilliant invention and generous loan of 3 inflatable paddle boards by Boardworks Rescue Division that finally allowed ISLA to get the necessary equipment to Nicaragua to save lives. The boards (and their very high powered pumps) store very nicely in a backpack-sized travel case and were ideal for taking to spots with remote access.
We were able to utilize the Boardworks' inflatable paddle boards to run physical events for our course trainees, as well as give them some hands-on training in negotiating the boards through the surf to a potential victim. The boards proved to be a critical component in our lifesaving operations when one of them was used for a very urgent rescue. A young girl had been swept off the rocks of a dangerous part of the beach and pulled out into a rip current. ISLA guards were able to respond much more rapidly than if they had to swim and were able to rescue the young girl just as she was going under.
We can't rave enough about these boards being an awesome addition to our fleet of lifeguard equipment and would recommend this product to any lifeguard agency or station. It is an easily storable and transportable rescue board that navigates great in the surf. Our guards even took it into some more larger shorebreak to test its limits and were amazed by its integrity, toughness and likeness to a traditional rescue board.
A huge thanks to Boardworks Rescue Division for your amazing assistance and support of ISLA! Your products have had a direct impact on saving lives in Central America and in allowing us to continue to provide safe operations to some of the most needed beaches in the world.
Thanks again Boardworks Rescue Division!