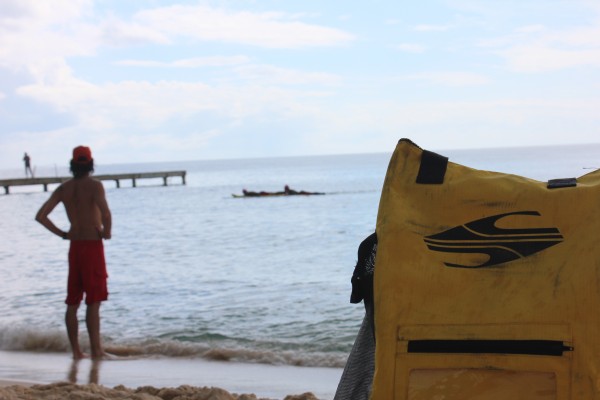 Boardworks Rescue Division paddleboard fit nicely in a backpack size bag.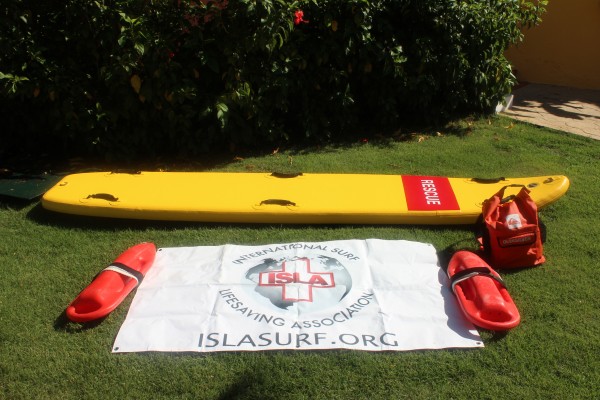 Boardworks on an ISLA training trip in the Dominican.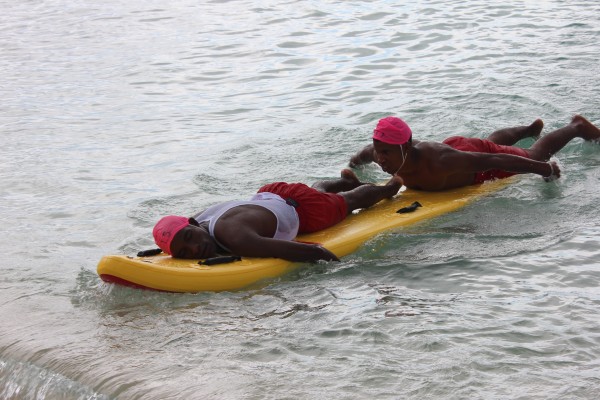 The board maneuvers well with a victim on board.
Imagine that a company wants you to test a new prototype rescue product. You are thinking rescue can or maybe first-aid equipment. Not so…instead, upon your doorstep, wrapped in cardboard like some massive Christmas gift on steroids are two brand spanking new, eleven foot, bright yellow, inflatable rescue board designed by Steve Reuter! Yes! The nightmare of going on an ISLA mission and being late for your flight, stuck at airport because of a full sized rescue board that was unable to fit aboard an airplane is now a thing of the past.
Six months ago we put the Boardworks prototypes to the test. One prototype was used in the Caribbean during our Project in the Dominican Republic, the other in Nicaragua during the dry season. After sending in our feedback and Boardworks implementing our suggestions, ISLA jumped at the chance to utilize the final product on our latest lifeguard-training mission in the DR.
The first training day with the new rescue board was drenched in anticipation. Working with this board was great. The combined effect of the wide tail and detachable center fin offered loads of stability and maneuverability.
While I'm not a fan of standing on a rescue board (it doesn't look professional when you don't surf very well), some lifeguards love it, and the non-slip PVC top (Dropstick construction) and slight rocker gives you ability to carve very loosely on a wave face without slipping or totally spinning out. Any lifeguard who is in fighting shape should be able to put this baby through the motions in any conditions. I was especially impressed with the responsiveness of this rescue board.
The Verdict:
The Air Rescue Inflatable 11'0" is Ideal for Fire Departments or Water Rescue Teams that require a quick inflate board that provides a stable effective tool for all types of aquatic rescue situations, like flood, mud, ice or swiftwater. The big wide stable tail provides easy to use, easy to control features in a vast range of water rescue situations. Quick to inflate from an air bottle, handy to store rolled up into a bag, safe to work with, and easily meets commercial airline dimensions and weight restrictions, this board is the perfect water rescue tool.
Height: 11'0″
Width: 25″
Thickness: 4″
Inflate time: Approx 1 min (with manual pump)
Fins Included: Detachable center fin with glued on rubber side bites.
Cost: $999.99
Website: http://boardworkssurf.com/rescue/
Read more about ISLA's involvement in the Dominican Republic.