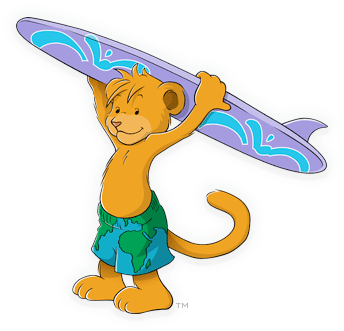 Meet Jabari of the Water:
The brave, friendly lion cub that will change the way children and adults behave around the water. Jabari and his friends teach children about water safety rules.
Overview:
This lovable and respectful lion's purpose is to open a different kind of conversation about water safety for children. To date, much of the literature and education children receive about drowning prevention is fear-based. While it's important to teach children to respect the water, we believe there's a better way to get children to remember water safety rules: story-telling and recognizable characters. Jabari is all about fun, but he's based in solid academic theory.
Jabari is a character our kids can both relate to and aspire to. He's fun-loving, active and cool, and he enjoys the same things most children love—such as playing with his friends. He's relaxed around water because he's a surfer, and he knows you shouldn't panic around water. But, as all surfers know, Jabari respects the water and follows the water safety rules he's learned. He'll share these rules with his young readers.
Some of the guidelines Jabari stresses through stories and fun activities are as follows:
Care of Self
Learn swimming and water survival skills.
Always swim with others
Obey all safety signs and warning flags.
Never go in the water after drinking alcohol.
Know how and when to use a life jacket.
Swim in areas with a lifeguard.
Know the weather and water conditions before getting in the water.
Always enter shallow and unknown water feet first.
Care of Others
Help and encourage others, especially children, to learn swimming and water safety survival skills.
Swim in areas with lifeguards.
Set water safety rules.
Always provide close and constant attention to children you are supervising in or near water.
Know how and when to use a life jacket, especially with children and weak swimmers.
Learn first aid and CPR.
Learn safe ways of rescuing others without putting yourself in danger.
Obey all safety signs and warning flags.
Jabari's book, "Jabari Makes A Splash!" is available for purchase on Amazon.
To learn more about the Jabari of the Water and his water safety friends visit the their website. You can also follow Jabari of the Water on Facebook.