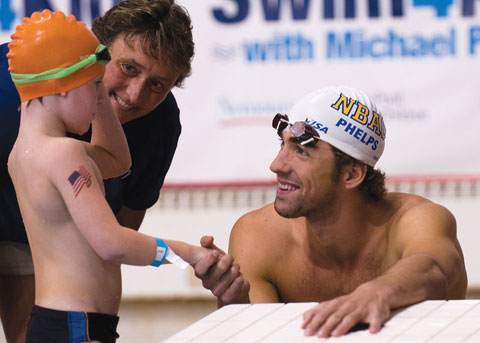 Mission Statement:
The Michael Phelps Foundation is a nonprofit organization focused on growing the sport of swimming and promoting healthy and active lives, especially for children.
Overview:
In 2008, Michael Phelps established the Foundation with his well-publicized $1 million bonus received from long-time partner Speedo for winning eight gold medals at the Beijing Olympics.
The foundations first initiative was when Michael traveled across the country on an eight-city tour and encouraged Boys & Girls Clubs of America members to reach their goals with his Dream, Plan, Reach message. Since then the Michael Phelps Foundation has developed the program for Boys & Girls Club members as well as Special Olympians throughout the world. The program encourages increased participation in health and fitness activities, and personal empowerment through informed planning and goal-setting strategies.
The Michael Phelps Foundation also supports the Level Field Fund and created the Level Field Fund – Swimming grant program. Level Field Fund-Swimming strives to bridge gaps in funding for uniquely talented swimmers, following the belief that opportunities to pursue excellence in sport should not be limited by an athlete's financial situation.
Caps for a Cause was developed to help other nonprofits who share the foundation's mission by providing a signed Michael Phelps swim cap for their fundraising efforts. The Michael Phelps Foundation is a program driven foundation that works diligently towards its mission to grow the sport of swimming and promote healthy and active lives.
You can find out more about the Michael Phelps Foundation by visiting their website or by following them on Facebook.
MICHAEL PHELPS IF YOUR READING THIS!
We are the International Surf Lifesaving Association (ISLA), and we have developed a prototype of the world's first Global Drowning Tracker. The Global Drowning Tracker© works by allowing people around the world to input statistics on drownings. Anyone with access to the internet or a cellphone (via SMS text messaging) can report a drowning. The end result is a tool that enables researchers, lifesavers and drowning prevention experts a real-time snapshot of where resources can cost-effectively be implemented to prevent the global drowning epidemic.