The ISLA Experience: Miguel Báez
Get to know our volunteer, Miguel Báez! He just joined isla on our trip to the Dominican Republic over Easter! Welcome to the ISLA team Sarge!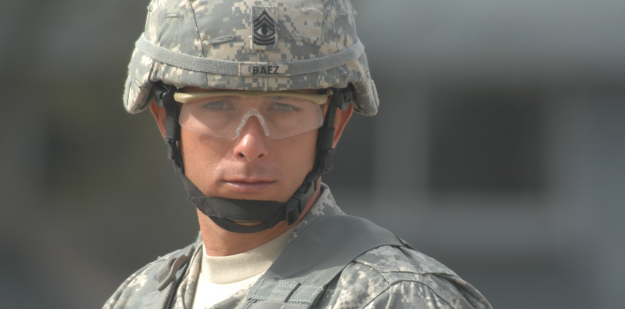 Tell us about yourself.
I'm 50% Puerto Rican & 50% Cuban and fluent in Spanish and English. I have been living in Hawaii since 1992. Currently a City & County of Honolulu Ocean Safety Officer with 14 years, U.S. Army Sergeant Major with 21 years. I'm friendly, professional, adventurous and a passionate person who loves to run, swim, surf, watch football (soccer) games, cook latin cuisine and dance to my latin roots. I have my Associate's Degree in General Studies from Central Texas College; NREMT-B training from Honolulu Community College and graduate of four U.S. Army Noncommissioned Officer Leadership Academy's.
What are your goals in life?
Start a family and continue to travel the world.
Hobbies?
There is so much I like and have done, but lately I have been running, swimming, body surfing, body boarding, traveling, cooking and getting all hyped for the FIFA World Cup.
Favorite music?
Hmmm… Punk, Hardcore, Ska, and lately allot of Salsa, Merengue, Bachata and Reggaetón.
What is your favorite beach in the world?
My favorite is Makaha Beach which is world-renowned for surfing and the birthplace of big wave riding which has challenging conditions. When there's surf you will see different wave riding such as Body Surfing, Body Boarding, Surfing, Stand-up Paddle Surfing, Bully Boarding, Canoe Surfing and SUPsquatch. Makaha Beach has allot of Mana (In Hawaiian culture, Mana is a form of a spiritual energy) like no other. Also famous for breeding grounds to some of the best watermen in the world to include legendary lifeguards, pioneer surfers and pioneers of rescue craft training.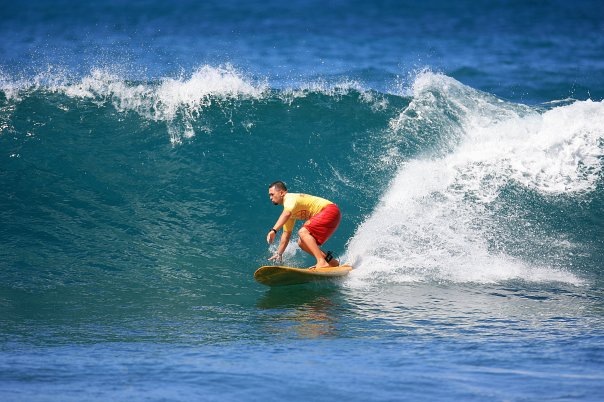 Where have you lifeguarded?
I first started lifeguarding in Herb's Beach (Gulf of Aqaba, Red Sea) in Sharm el Sheikh, Egypt from 1996-1997; then I was at Bellows Beach in Bellows Air Force Station Waimanalo, Hawaii as a Lifeguard/Rescue Craft Operator from 2000-2002; and then at Makaha Beach, Maili Beach, Makapu'u Beach, and Nanakuli Beach… just to name a few on the island of Oahu, Hawaii as an Ocean Safety Officer for the City & County of Honolulu from 2000 to Present.
How did you first get started with ISLA?
One day I was on Facebook and I came across the page. I saw some pictures of William Koon and Henry Reyes in Washington DC. It caught my eye because I had just returned from there, and so I started to research more about ISLA and saw that what they was doing was a way to challenge myself by participating in an international project to promote ocean safety throughout the world along with them.
What interested you most about ISLA?
The fact that ISLA has volunteered to assist other countries in need to prevent drownings, save lives and promote lifesaving methods.
What were you looking forward to on the ISLA Dominican trip?
Meeting like-minded people who share the same passion for lifeguarding like I do, and teach others how to recognize, respond and rescue in order to save lives and promote ocean safety awareness.
What were your first thoughts arriving at the airport and meeting the team?
I was excited to meet the team and was getting all hyped. As I was exiting the terminal we were greeted with a live band playing merengue music. Then shortly after passing through customs, and exciting the building is when it hit me that I was there. William Koon greeted me and that's when I met the rest of the team. We were bonding and laughing while we waited for the rest of the team to arrive. Beers! followed as a custom beverage. Epic!!!
What surprised you about the Dominican Republic?
How friendly, caring and humble they are. Also how bachata music can be so soothing.
What was the highlight of trip?
Tackling the task of prevention, saving lives, and promoting ocean safety without any drownings during Semana Santa. Also the lifelong friendship established with the Dominicans and ISLA Lifeguards.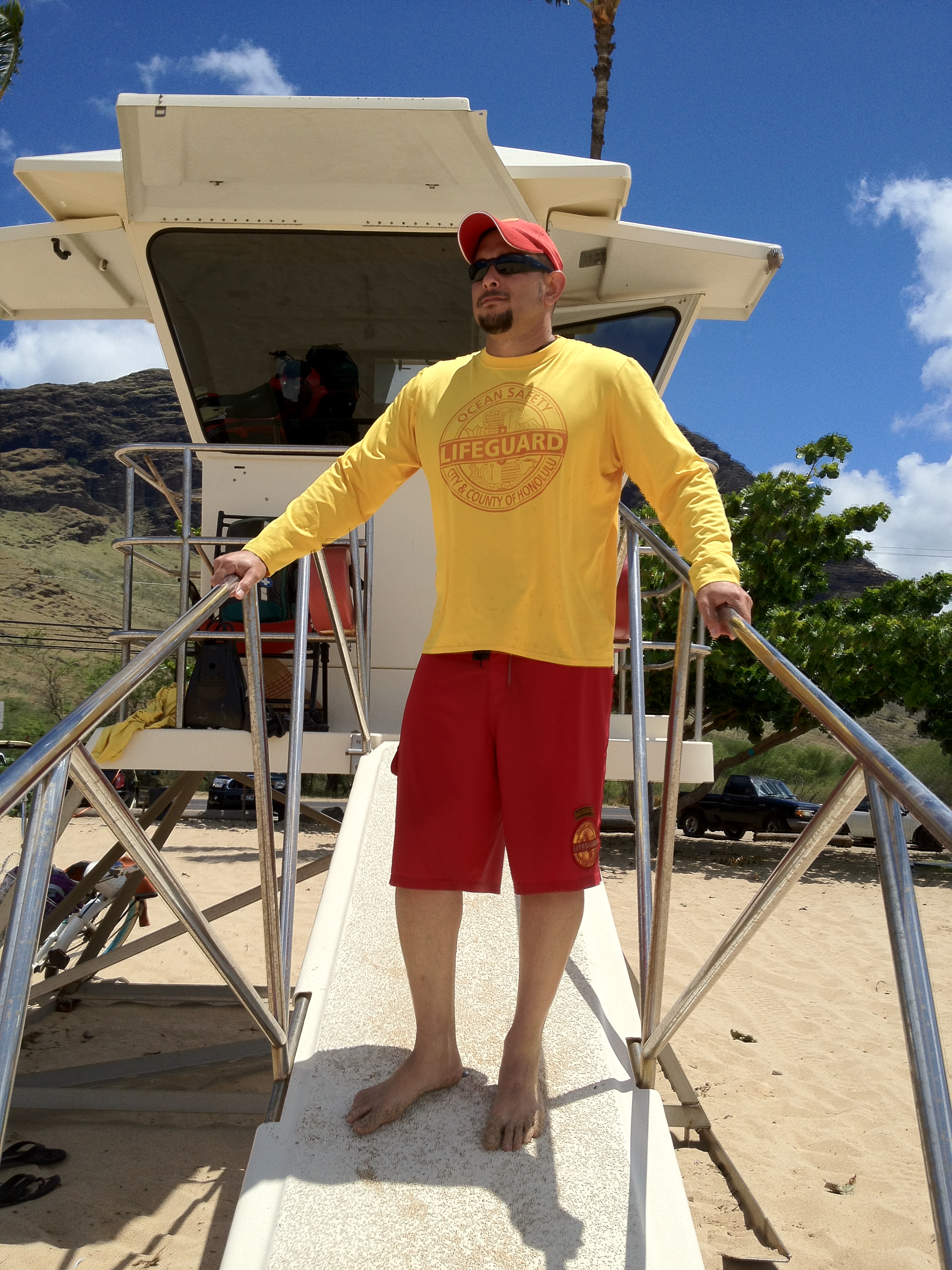 What was your favorite food/meal in the Dominican Republic?
Churrasco (steak) with tostones (plantains).
What was lifeguarding Semana Santa like?
It was an gnarly experience lifeguarding with limited resources a beach with 10,000 beach goers consuming alcohol during a festival while being exposed to sun, surf and sand for 10 hours. The dangerous shorebreaks, strong currents and loud music made it more challenging.
What is the best beach food?
I start my day off with a homemade Starbucks Latte and a piece of toast with butter. Then for lunch something light like a salad or small sandwich. Because you don't want to respond to a surf rescue on a full stomach… Lessons Learned!
What do you do outside of volunteering for ISLA?
Besides lifeguarding with the City & County of Honolulu. I proudly serve my country in the U.S. Army as a Operations Sergeant Major where I'm responsible for operations and combat support for over 1,000 Soldiers. I also own and operate my business known as Westside Lifesaving Services for over 15 years. In which I provide training in Lifeguarding, Lifeguard Management, Water Risk Management, and First Aid &; CPR/AED for Lifeguards, EMTs, Firefighters, Police and Surf Instructors throughout the Hawaiian Islands. I also work as a Non-Union Actor under Hawaii Film Studio's.[p] [h3]Favorite thing about lifeguarding?[/h3] [p]Having the knowledge, skills, and the ability to recognize, respond, rescue, and manage your assigned beach. Knowing that you have the tools to save a life and make the difference. Also having the freedom to conduct physical training while still enjoying the sand, surf, and ocean environment.
Favorite piece of rescue equipment?
My DaFiN (surf fins) because without it I feel naked in the water. Specially during hazardous conditions such as high surf and strong currents. I carry my rescue fins everywhere even to the rest room.
How will you continue to prevent drowning?
My tactic is to inform (give warning), educate, and enforce ocean safety awareness to all beach goers as they come to the beach. You are not always able to address everyone that is why you always have to prepare, prevent, recognize and respond to a distressed swimmer. Another tactic I use is mitigating risks by identifying hazards (such as high surf and strong currents), assessing hazards (probability + severity), developing control measures (such as posting signs, and giving verbal warnings), implementing controls and supervising; evaluating (control measures) using this 5-step process of risk management. I'm able to lower the overall risk level from high to moderate and most of the time to low.
What inspires you?
What inspires me is having good leaders and mentors that have shared their knowledge, skills, and expertise while providing guidance throughout the years, and the ranks in the Army and also through lifeguarding when I first started.
Describe yourself in 3 words?
Professional, Friendly, Adventurous
What certifications do you have?
• National Registry of Emergency Medical Technician-Basic trained
• United States Department of Transportation Emergency Medical Responder
• American Red Cross Waterfront Lifeguard Instructor
• American Red Cross Lifeguard Instructor
• American Red Cross CPR/AED for Professional Rescuers Instructor
• American Red Cross Water Safety Instructor
• United States Lifesaving Association Open Water Lifeguard – Class I
• American Heart Association Basic Life Support
• K38 Water Safety Rescue Craft Operator
• United States Coast Guard Auxiliary Boating Skills and Seamanship
• United States Army Risk Management Instructor Trainer
• United States Army Rappel Master
• United States Army Combat Lifesaver
• PADI Open Water Diver
• Federal Emergency Management Agency Incident Command Systems ICS-100, ICS-200, ICS-300, ICS-400, IS-700, IS-800 and IS-809 (Search & Rescue)