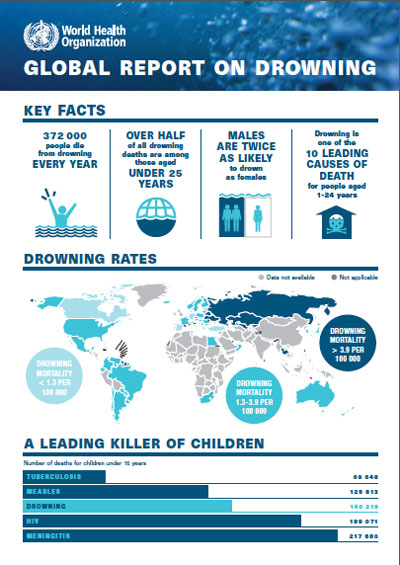 ACCORDING TO THE 2014 WHO GLOBAL REPORT ON DROWNING:
Data collection in many low- and middle-income countries is limited, hampering the planning, implementation and monitoring of drowning prevention measures. In addition, the way deaths are classified means the full extent of the world's drowning problem is underrepresented – statistics currently exclude intentional drowning (for example,suicide and homicide), as well as drowning deaths resulting from flood disasters and water transport incidents. 1 data on non-fatal drownings, which could reveal something about the burden of serious injury and lifelong disability, are not routinely collected.
Key facts:
Drowning is the 3rd leading cause of unintentional injury death worldwide, accounting for 7% of all injury-related deaths.
There are an estimated 372 000 annual drowning deaths worldwide.
Global estimates may significantly underestimate the actual public health problem related to drowning.
Children, males and individuals with increased access to water are most at risk of drowning.
"There needs to be much more national and international attention focused on drowning, given the limited data available on its true scale and the heavy toll it takes on families, communities and economies."
– World Health Organization
Interested in reading the full 2014 WHO Global Report on Drowning?